---
---

SanTranslate have impressed us with their extremely reliable and consistently high quality translation service.

We were very satisfied with the friendly, efficient & timely translation service given to us by SanTranslate.

Your colleagues were very professional to work with. We are very pleased with your translation services!

---
Why SanTranslate?
Your satisfaction is important to us.
Our motto is simple - Nothing is more important to us than to provide you with the best possible translation service. Our team is always on hand to help you within 24 working hours.
We believe in close communication - we will always endeavour to get a clear vision of your needs before starting your translation project.
When we agree a delivery time with you, we stick to it. We always work with fixed prices (unless we have discussed a change to the brief); we do not believe in hidden charges.
---
Legal document translation services from and into any Language for courts, businesses and law firms.
Get Quote Now!
---
Visit our Mobile Site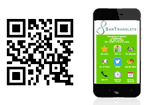 Scan QR code to download
More reasons to use SanTranslate
We will keep you posted from start to finish.
Your files will be kept safely and securely in case you lose them.
We will kick-start your project on the same day you confirm your order.
Your will receive your work in a timely and professional manner.
You will receive the full customer support of SanTranslate.
---